Rainbow Biodegradable Confetti Cannon Shooter
Surprise your guests with this 'Rainbow Confetti Cannon Shooter'. Shower your guests in confetti happiness as they dance away! A loud cannon bang is followed by a cascade of mult rainbow coloured confetti filling the room. This cannon shooter really makes for special moments.
Twist the bottom to release the confetti high into the air.
Rainbow cup
These eye-catching rainbow print cups are suitable for all kinds of parties
Material: 300gsm single side coated paper
MOQ:1000sets
Packaging:10pcs/shrink bag
Volume: 250ml (9oz)
Rainbow plate
The rainbow shape plate with rainbow color printing is really cute and beautiful
Material: 350gsm white card
MOQ:1000sets
Packaging:10pcs/shrink bag
Size: 10inch
Rainbow napkin
Brighten up the table! This pack of Talking Tables rainbow coloured napkins l are perfect for any birthday party.
MOQ:1000sets
Packaging:25pcs/shrink bag
Size: 33cm x 33cm unfolded.

Rainbow tissue paper garland
This paper garland made from quality tissue paper. This rainbow coloured show stopping paper garland is made up from lots of layers of tissue paper and can be draped or hung from just about anywhere to add a real wow factor to your party.
Rainbow Happy Birthday Garland
Brighten up the party with this colourful birthday garland by Talking Tables! Perfect for all ages, this multicoloured 'Happy Birthday' garland features sticky tabs for hassle-free hanging.
This garland is 3m/10ft long.
DIY Pastel Rainbow Balloon Cloud Kit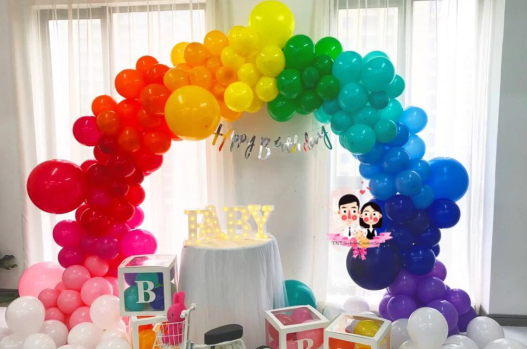 This gorgeous DIY Pastel Rainbow Balloon Cloud Kit contains all you need to create your very own statement party piece! Perfect for parties, weddings, and corporate events, this garland can be assembled and placed indoors or outdoors – simply inflate your balloons and secure to the decorating strip supplied in your kit.
This pack includes:
50 x opaque 11" balloons
200 x opaque 5" balloons
20x opaque 16" balloons
3 x 3m decorating strip
These gorgeous balloons are sent out flat ready to be inflated and assembled by you.
made from:
The balloons are made from excellent quality latex – the balloon choice of professionals. Because the balloons are air filled they can be enjoyed for days, even weeks, depending on their environment. The balloons are supplied flat packed and should be filled with air only. We recommend blowing the balloons to slightly smaller than their intended size – soft and squishy balloons are much more versatile and are less likely to pop.
dimensions:
The balloons included vary from our mini 5inch balloons to the larger 16inch balloons.