The American Independence Day is a federal holiday in the United States commemorating the Declaration of the Independence of the United States, on July 4, 1776.So each July 4 for all the American is one of the most patriotic holidays of the year. The kids are out of school, the weather is warm to have a party to celebrate it. It's very good time to reunite the family. We have 2 decoration sets for the Independence Day.
You could see the details in below:
Set 1
In this set there have:
1: 8pcs paper fans for wall decoration-single side printing
2: 1pc paper bunting – single side printing
3: 2pcs paper garlands
4: 8pcs latex balloon in 12inch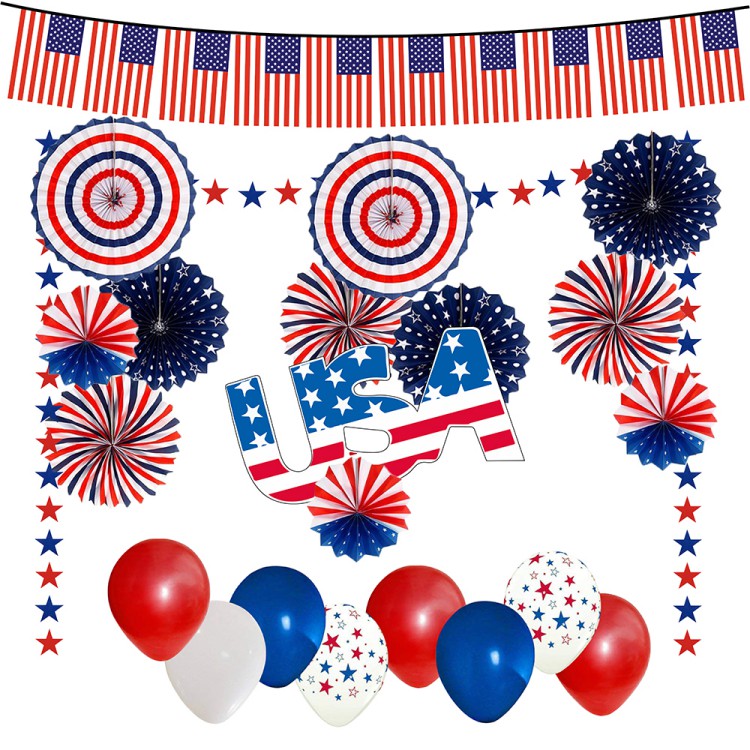 Set 2:
1: 1 paper bunting-single side printing
2: 11pcs paper fan-single side printing
3: 3pcs paper garland
4: 1 USA paper sign
5: 8pcs latex balloon in 12inch
In July 4, patriotic paper fan, patriotic bunting, patriotic cake toppers, patriotic balloons, star-shaped confetti, are the most popular decorations for this holiday. The most important color is red and blue, the main element is strip and stars. All these could show of you are pride of being American.
We also have the tableware's for July 4 party. Like table cloth, dessert plate, dinner plate, straws, napkins, cups etc. All the staff you need we could help you to customized it.
Come and find a suitable set for your party, we wish you have a great July 4 party!